Most chalk artists are always trying to improve their soundtracks. Yet, most of us don't want to spend a lot on music. Good news! The amount of free, legal music available on the internet for download is astounding. The problem is that some of it comes with nasty strings attached: pirated files (meaning free to you but often stolen from the copyright holder), embedded Trojan viruses or spyware, and much more. Getting through this minefield can paralyze even the most stouthearted into inaction.
But I have spent a lot of time digging through that online minefield and discovered some great gems buried out there: public domain music, vintage archive collections, sample production music, royalty free goodies, old vinyl, and freebies from musicians who post their works just because they want to share it. As you know, links come and links go. Hopefully most of the links in the article will still be active when you get around to looking. I have cut & pasted them directly from my browser to ensure accuracy.
This article was originally written for The Christian Conjurer magazine (now called The Voice of the FCM).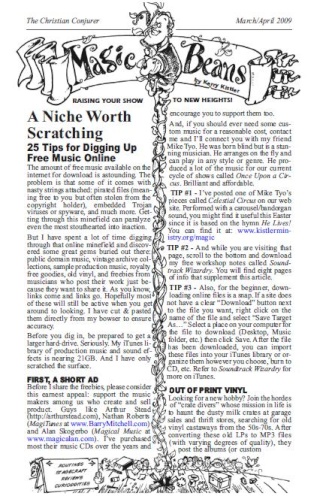 Click HERE to download the full article in PDF.
Here are a few more links that I have discovered since the article was published:
- Classic Cat: The Free Classical Catalog
- The Recordist (more free sound effects)
- GarageBand.com: Discover Independent Music
- SoundBible.com (free sound effects and clips)
Happy digging,
Kerry

*****************
www.ChalkIllustrated.com | www.GoldenChalkClassics.blogspot.com | www.ChalkedAndAmazed.com

*****************