Hi Jay,
I picked up a 48" piece of aluminum U channel at a Ace or True Value hardware. It has a base of 1/2" and walls of 3/4". Thickness of the aluminum is about 1/16". See it at this link
HERE
. You can probably find it at your local hardware store.
Lay this on your chalk tray, toward your paper. I temporarily stick mine in place with two marble-sized balls of reusable putty (such as used for hanging posters on a wall). Now, inside the full length of channel lay a long piece of flash cord. This is heavy string that is specially treated with chemicals that make it burn VERY fast. You can see and purchase it
HERE
.
Leave a short tail sticking out of one end of the channel and when you need the fire reach into your chalk tray where you have secreted a lighter. Light the tail and just hold the lighter while the flames burn across the base of the drawing. Ditch the lighter back into the tray when reaching for the next stick of chalk.
Here is what it looks like in action in a drawing called The Drawbridge - the flame goes about 6" high. Test the position of the flame because this technique has been known to catch the bottom edge of the paper on fire

. Have fun! Kerry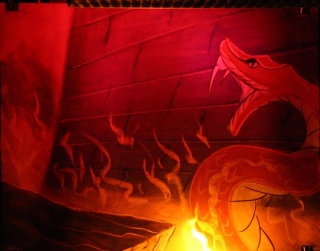 *****************
www.ChalkIllustrated.com | www.GoldenChalkClassics.blogspot.com | www.ChalkedAndAmazed.com

*****************